Putts & Suds Fore Parks Costume Contest

Saturday, February 26, 2022
Presented by

Thank you to all who participated, volunteered and sponsored! Another hugely successful event raising nearly $45,000 for Arroyo Trails!
VOLUNTEERS NEEDED!
The People for Channahon Parks Foundation is seeking volunteers to help at Putts & Suds Fore Parks. The event raises around $40,000 each year with all proceeds benefitting Arroyo Trails, A Discovery Woodlands.
What  Bar Official Volunteers to manage a hole at each bar. Volunteers will be at the same bar throughout the event
When  February, 26, 2022, 10:00 am-5:00 pm.
Where  Choice of Fat Boyz Pizza, Heroes West Sports Grill, Lallo's Bar and Grill, Minooka Pub & Grill, The Office Bar & Grill, or Wings, Etc
Interested? Contact Jennifer Mensik at jmensik@channahonpark.org or 815-521-3112
All volunteers receive an event shirt and entry to the after putting party at Heroes West in Joliet where a buffet dinner will be served.
Putts & Suds raises around $40,000 each year with all proceeds benefitting Arroyo Trails, A Discovery Woodlands


Putts & Suds Fore Parks Bar Officials Responsibilities
Bar Official Training – Friday, February 25, 2022, 6:00-7:00pm, Heroes West, Joliet
Volunteer Information
All volunteers must be at their bar location by 10:15 am.
Please wear your volunteer shirt and wrist band. It's important for all to be able to identify you if they have any questions or need assistance.
Volunteers can drink during the event. Please remember you are volunteering for a fundraiser that represents the foundation and drink responsibly.
Scoring will end at 4:30 PM. All scorecards must be turned in by participants at Heroes West by 5:00 PM.
The LAST BUS pick up is at 5:30 PM.
Sign-In Official
The Sign-In Official will be positioned next to the putting course at a table.
Have the team sign in. The Sign-In Official will announce the next team up to play and team that's "on deck" as well and the second team who is "on deck".
This person is in charge of the order of the teams putting at that location. Teams putt in the order they sign in with you. Teams must be ready to line up when called out.
Sign-in Officials will be given a clipboard, pens and a numbered sign in sheet.
Record team names on the check-in list in numerical order that they sign in.
Call out time warning per rules/seek Course Marshall assistance as needed.
Must have knowledge of team play process and rules.
Assist the Course Marshall in keeping teams moving along in a timely fashion and reminding them to have fun!
 Scorekeeper
The Scorekeeper will be positioned next to the hole.
If there is no "starting line" for the ball, please determine where it will be and keep it the same throughout the day.
The Scorekeeper will receive the scorecard from the Team Captain before the team begins to putt.
The Scorekeeper will make sure the players are putting in the correct order.
After each player putts, mark their score on the card. Once player reaches 6 putts, mark them a 6. Tally the numbers at the end and initial next to the "total" box.
Return scorecard to the captain and instruct them to look for the bus to go to the next location.
Be consistent with the rules but be fair and HAVE FUN.
Make sure to keep the teams moving. No time delays should be given when a team is up to play. It's important to keep the teams on time so that everyone has equal playing opportunity.
Course Marshall
Course Marshall is the FINAL AUTHORITY ON ALL RULES AND DECISIONS. If no Course Marshall, the duty becomes the Scorekeeper.
Course Marshall assures the Team Participants are following the rules and assist in placing out of bound balls, calling out rule reminders to the scorekeeper and assists Sign-In Official in enforcing rules, and calling out teams on deck, etc.
Provides restroom breaks for Scorekeeper and Sign-in Official as needed.
Responsible to manage all Time Call Outs , Last Putting , Last Call for Bus Transportation.
Provide communication to event leadership and back up as needed throughout the day.
Participant Waiver & Additional Event Information
Every participant must sign and turn in a Waiver to participate in Putts & Suds Fore Parks. Please download a waiver for each Putt Putt Player on your team. Waivers can be emailed to: ccapecci@channahonpark.org or turned in at check-in Friday, February 25 and Saturday, February 26. Extra waivers will be available both days.
Early Check-In is all about getting your Swag Bags with T-Shirts, Golf Balls, Score Cards, Wristbands, getting your Bus Assignment, turning in your SIGNED Participant Waivers, and scoping out the Raffle Prizes at Heroes West Bar & Grill! Early Check-In will be 5:00-7:00pm at Heroes West Bar & Grill.
Saturday Morning Check-In begins at 9:30am at Heroes West Bar & Grill. Pick up your Swag Bags, get your Bus Assignment, turn in your SIGNED Participant Waivers. Breakfast items will be for sale and Raffle ticket for purchase. Buses will start loading at 10:30am and depart at 11:00am.
Enjoy the day but don't forget to bring your Putter! Teams can play any bar in any order but MUST play at least 7 Holes and return to Heroes West Bar & Grill by 4:30pm in order to qualify for prizes. Participants MUST use provided bus transportation bar to bar. Post Putting Party begins at 5:00pm back at Heroes West Bar & Grill!
Costume Contest could win your team Free Registration for next year's Putts & Suds! Dress up and get your picture taken. Costume Contest Not Required
Bus assignments are chosen by each team at check-in Friday and Saturday.  The bus assignments are relevant for ONLY the first boarding from Heroes West on Saturday at 10:30am. After you have reached your first bar you can get on any bus, you do not have to ride the same bus throughout. The buses will rotate to each bar every 20 minutes.
Event proceeds benefit Arroyo Trails, A Discovery Woodlands
Arroyo Trails, A Discovery Woodlands, is a nature park development managed by the Channahon Park District, planned and funded by the People for Channahon Parks Foundation. Set on a truly unique 78-acres, the nature park is unlike any other, reintroducing children and families to nature and enriching life. Arroyo Trails offers numerous opportunities for outdoor play, fitness and education!
Trail & Fitness Stations are ready for you to explore!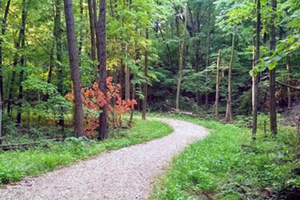 Exelon Generation Trail
The Exelon Generation Trail is a unique crushed stone nearly one-mile (two miles out and back) trail that takes you along the ravine, winding creek and forest areas for kids and families to play and experience nature! You'll discover beautiful overlooks, boardwalks and bridges, with sightings of white tailed deer, nestling birds, blue heron and more. Check out the trail map here.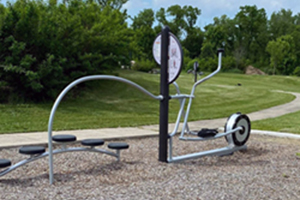 Morris Hospital & Healthcare Centers Fitness Stations
Enjoy fitness inspired by nature, fresh air, sunshine, and beautiful scenery on Morris Hospital & Healthcare Centers three Fitness Stations located near the trailhead!
Phase 2 construction complete!  Phase 3 going on now!
Phase 2 of construction at the trailhead included the Aux Sable Outdoor Amphitheater with stone path, the ExxonMobil Potawatomi Village where children can learn through play, water play area with interactive fountains promoting push to play, a slide, and council ring with benches.
Phase 3 includes a pavilion shelter (completed), restrooms and additional trail improvements. Coming soon! StoryWalk sponsored by Channahon Township!
Location
Arroyo Trails is located North of U.S. Route 6 between the DuPage River and Bell Road, three miles west of I-55. Click here for map.
Click here for more information.
Thank you to our Arroyo Trails Major Donors!
Thank you to our generous sponsors!
Presenting Sponsor
Hollywood Casino, Joliet
Hole in One Sponsor
Venture One Real Estate
Eagle Sponsors
D'Arcy Chevrolet, Morris
Jayne & Frank Yudzentis
Michelle Denoyer – Edward Jones Channahon
Northern Illinois Steel Supply Co.
Birdie Sponsors
Ancel, Glink, Diamond, Bush, Dicianni & Krafthefer, P.C.
D Construction
ExxonMobil
McDonald's – John & Joanne Carnagio
Meents Law, P.C.
Par Sponsors
Associated Orthodontists, LTD
Dollinger Family Farm
Donna & Chuck Szoke
Fred C Dames Funeral Home
Law Office of Michael A. Mattingly
Morris Chopshop/Big Fish Grille
Ron & Mary Ann Lehman
Tedd W McCauley, LCSW & Associates
Testa Steel Constructors, Inc
Troutman Excavating
Von Holten Eyecare
New location! Event begins and ends at Heroes West!
Where else in Illinois can you have so much fun on a Saturday in February?? Must be age 21 or older to participate. Play up to 9 holes (only 7 holes required to compete) of Putt Putt Golf at local bars.
Leave the driving to us – bus transportation bar to bar provided (required for all participants).
All proceeds benefit Arroyo Trails, A Discovery Woodlands.
$260/Foursome – Includes T-Shirt, Golf Ball, Transportation, and Post Event Party.
Friday, February 25 at Heroes West Sports Grill – NEW LOCATION! 
5:00-7:00 pm   Early Check-In (t-shirt and score card pick up), Choose bus assignment
Saturday, February 26 at Heroes West Sports Grill – NEW LOCATION! 
9:30-10:30 am   Check In (t-shirt and score card pick up), Choose bus assignment
10:30 am  Bus loading and transportation begins
11:00 am-4:30 pm  Putt putt golf at local bars
4:30-7:00 pm  Post Putting Party
5:00 pm  Return to Heroes West for score card turn in Post putting party!
Participating Bars:
Channahon Lanes
Dock Rotz
Fat Boyz Pizza
Heroes West Sports Grill
Lallo's Bar and Grill
Minooka Pub & Grill
The Office Bar and Grill
River Hawk Brewing
Wings, Etc
Celebrity Golf Classic
Due to The Bluffs construction in 2021 the Celebrity Golf Classic will return in 2022!
People for Channahon Parks Foundation Celebrity Golf Classic is a golf outing held annually at the award winning Heritage Bluffs Golf Club. In 2019, the Celebrity Golf Classic held it's 3rd Annual Fundraiser on August 16, 2019. Teams and Single Golfers played a round of golf joined by celebrity captain, Eric Soderholm and other former Bears, Cubs and White Sox players in supporting the Arroyo Trails Nature Park. Check-in included free lunch, drinks, and raffles before the Shot Gun Start. Cocktail Reception in the evening complete with Buffet Dinner, Program Presentation, Celebrity Showcase, and Awards. Sponsorship Packages include company recognition, hole signs, and foursome or single golfer options.
PEOPLE FOR CHANNAHON PARKS FOUNDATION
24856 W. Eames St, Channahon, IL 60410
Phone: (815) 467-7275 |  Fax: (815) 467-5677  |  info@peopleforchannahonparks.org
People for Channahon Parks Foundation is a 501(c)3 non-profit organization. DLN: 17053149037019 FEIN: 26-4058097
     
©2022 People for Channahon Parks Foundation