Morris Hospital & Healthcare Centers Outdoor Fitness Stations
Arroyo Trails,

A Discovery Woodlands
What will you discover when you explore Arroyo Trails?

Arroyo Trails, A Discovery Woodlands, is a nature park development managed by the Channahon Park District, planned and funded by the People for Channahon Parks Foundation. Set on a truly unique 78-acres, the nature park is unlike any other, reintroducing children and families to nature and enriching life. Arroyo Trails offers numerous opportunities for outdoor play, fitness and education!
Location
Arroyo Trails is located North of U.S. Route 6 between the DuPage River and Bell Road, three miles west of I-55. Click here for map.
Arroyo Trails is ready for you to explore!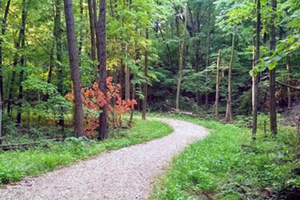 Constellation Trail
The Constellation Trail (formerly known as Exelon Generation Trail) is a unique crushed stone nearly one-mile (two miles out and back) trail that takes you along the ravine, winding creek and forest areas for kids and families to play and experience nature! You'll discover beautiful overlooks, boardwalks and bridges, with sightings of white tailed deer, nestling birds, blue heron and more. Check out the trail map here.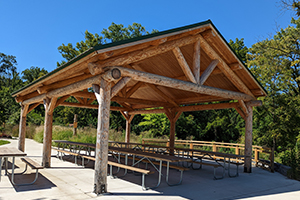 Cotter Pavilion
Located at the trailhead and overlooking the start of the trail, the rustic log pavilion is perfect for any type of gathering.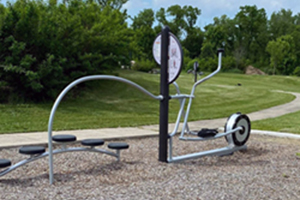 Morris Hospital & Healthcare Centers Fitness Stations
Enjoy fitness inspired by nature, fresh air, sunshine, and beautiful scenery on Morris Hospital & Healthcare Centers three Fitness Stations located near the trailhead!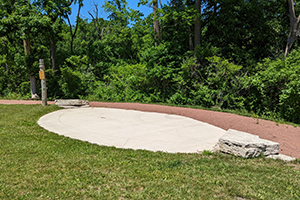 Aux Sable Outdoor Amphitheater Stage
An outdoor classroom/amphitheater with stage and boulder accents is a central location for groups to meet for education programs and theater productions.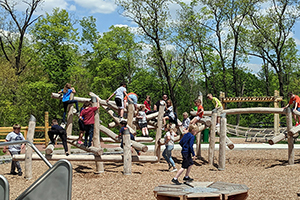 Log Climber
This unique wooden climber is made by Richter Spielgerate in Germany. Children have a natural urge to scale an obstacle or to climb up something. More than any other kind of exercise, climbing stimulates self-perception, promotes the ability to make decisions and to concentrate, trains spatial perception and supports self confidence.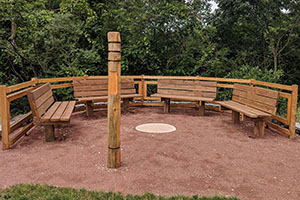 Council Ring
Benches surrounding a council fire is perfect for storytelling, drama, music, dance, or conversation. Benches built by Greg Gomez from Scouts BSA Troop 444.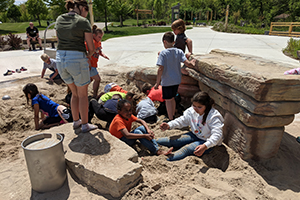 Water Play 
The Water Play Area mimics a natural stream. The water is kid powered with a hand pump and push/pull structures.
What's next?
Permanent Restrooms Coming in 2023!
The Channahon Park District has been selected as a recipient of a $185,000 ReBuild Illinois Grant by State Senator Connor and former State Senator McGuire to build permanent restrooms at Arroyo Trails.
Band Shell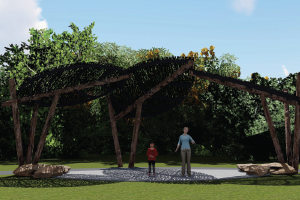 A unique band shell will be a new addition to Arroyo Trails where families, students, and groups can gather for concerts, events, family gatherings and more!
Seeking funding, estimated cost – $100,000
Boardwalk Extension/Covered Bridge
The boardwalk extension/covered bridge will be a beautiful addition and permanent solution to the trail washout happening near the trailhead.
Seeking funding, estimated cost – $150,000
How is Arroyo Trails funded?
Arroyo Trails is funded by the People for Channahon Parks Foundation, a tax-exempt 501(c)(3) foundation, and managed by the Channahon Park District.
Donors
The Foundation is extremely grateful to all of the companies and individuals who have supported Arroyo Trails! See our donors below.
Events
Event proceeds from the Foundation's two annual events, Putts & Suds and the Celebrity Ryder Cup Style Golf event, have helped support the Arroyo Trails development.
Grants
PFCPF has also received a Recreational Trails Program (RTP) Grant from the Illinois Department of Natural Resources, and was a 2019 recipient of the competitive Park Development and Open Space Land Acquisition and Development (OSLAD) Grant.
Major Donors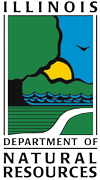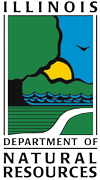 PEOPLE FOR CHANNAHON PARKS FOUNDATION
24856 W. Eames St, Channahon, IL 60410
Phone: (815) 467-7275 |  Fax: (815) 467-5677  |  info@peopleforchannahonparks.org
People for Channahon Parks Foundation is a 501(c)3 non-profit organization. DLN: 17053149037019 FEIN: 26-4058097
©2023 People for Channahon Parks Foundation