Morris Hospital & Healthcare Centers Outdoor Fitness Stations
Arroyo Trails,

A Discovery Woodlands
What will you discover when you explore Arroyo Trails?
Discover Arroyo Trails!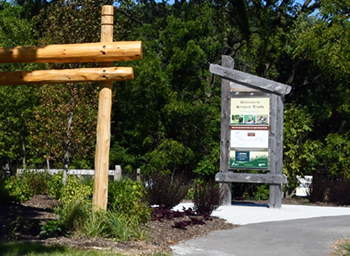 Arroyo Trails, A Discovery Woodlands, is a nature park development managed by the Channahon Park District, planned and funded by the People for Channahon Parks Foundation. Set on a truly unique 78-acres, the nature park is unlike any other, reintroducing children and families to nature and enriching life. Arroyo Trails offers numerous opportunities for outdoor play, fitness and education!
Location
Arroyo Trails is located North of U.S. Route 6 between the DuPage River and Bell Road, three miles west of I-55. Click here for map.
Trail & Fitness Stations are ready for you to explore!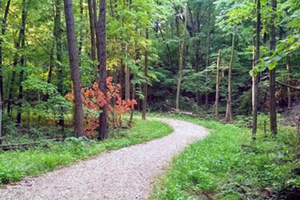 Exelon Generation Trail
The Exelon Generation Trail is a unique crushed stone nearly one-mile (two miles out and back) trail that takes you along the ravine, winding creek and forest areas for kids and families to play and experience nature! You'll discover beautiful overlooks, boardwalks and bridges, with sightings of white tailed deer, nestling birds, blue heron and more. Check out the trail map here.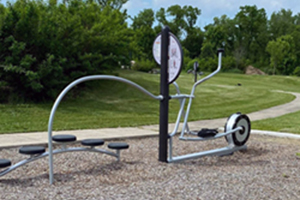 Morris Hospital & Healthcare Centers Fitness Stations
Enjoy fitness inspired by nature, fresh air, sunshine, and beautiful scenery on Morris Hospital & Healthcare Centers three Fitness Stations located near the trailhead!
Phase 2 construction complete!  Phase 3 going on now!
Phase 2 of construction at the trailhead included the Aux Sable Outdoor Stage with stone path, the ExxonMobil Potawatomi Village where children can learn through play, water play area with interactive fountains promoting push to play, a slide, and council ring with tree stump seats.
Phase 3 includes a pavilion shelter (completed), restrooms, band shell and additional trail improvements.
Coming soon! StoryWalk sponsored by Channahon Township!
How is Arroyo Trails funded?
Arroyo Trails is funded by the People for Channahon Parks Foundation, a tax-exempt 501(c)(3) foundation, and managed by the Channahon Park District.
Donors
The Foundation is extremely grateful to all of the companies and individuals who have supported Arroyo Trails! Among our committed supporters, the following are our Major, Golf, Silver and Bronze sponsors:
Major Donors
Aux Sable 
Exelon Generation
ExxonMobil
Illinois Department of Natural Resources
Morris Hospital & Healthcare Centers
Gold Donors
Cotter Family
D'Arcy Buick-GMC


Hollywood Casino – Joliet

Silver Donors
John & Joanne Carnagio
CIBC Bank


CN Stronger Communities Fund


Diversified CPC


INEOS


Greenscape Services

 – Greg & Kelly Stytz
The Grainger Foundation


David & Susan Landahl
Ron & Mary Ann Lehman
Dennis & Sharon Martin
Minor Family


Ozinga Materials


Michael Rittof
Wadsworth Company

Bronze Donors
2 Get Moving Realty


Busey Bank
Caesar's Foundation – Harrah's Joliet
Channahon Minooka Rotary Club


Channahon Township
Dennis & Patricia Clower
Coldwell Banker Real Estate Group


Jerry & Lorraine Davidson
Dollinger Family Farm


DuPont
Gail Durkee
Edward Jones, Channahon – Michelle Denoyer


First Midwest Bank


LyondellBasell


ONEOK Inc.


Donna & Chuck Szoke
Venture One Real Estate
Events
Event proceeds from the Foundation's two annual events, Putts & Suds and the Celebrity Ryder Cup Style Golf event, have helped support the Arroyo Trails development.
Grants
PFCPF has also received a Recreational Trails Program (RTP) Grant from the Illinois Department of Natural Resources, and was a 2019 recipient of the competitive Park Development and Open Space Land Acquisition and Development (OSLAD) Grant.
Raffle – Drawing October 26, 2020
Grand prizes included free golf for a year at The Bluffs in Channahon, booze filled YETI cooler and $150 gift card.
Major Donors:
Gold Level Donors:
Silver Level Donors:
Bronze Level Donors:
PEOPLE FOR CHANNAHON PARKS FOUNDATION
24856 W. Eames St, Channahon, IL 60410
Phone: (815) 467-7275 |  Fax: (815) 467-5677  |  info@peopleforchannahonparks.org
People for Channahon Parks Foundation is a 501(c)3 non-profit organization. DLN: 17053149037019 FEIN: 26-4058097
     
©2022 People for Channahon Parks Foundation