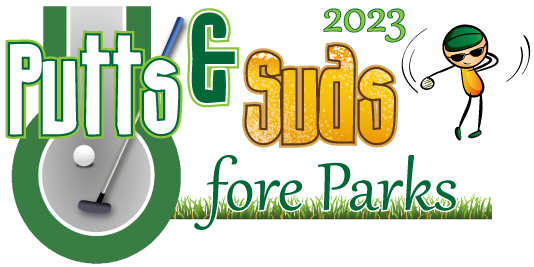 Important Participant Information
Please note:

Scorecards will be digital this year.
Instructions for the new digital scorecards will be given at check-in
Questions? Email jmensik@channahonpark.org.
Breakfast available Saturday morning at GameChangers
Sausage, Egg & Cheese Biscuit Sandwich $5
Sausage, Egg & Cheese Muffin Sandwich $5
Breakfast Burritos $4
RULES OF PLAY
Please pace yourself and drink responsibly!
Each player must wear the wristband provided at check-in throughout the day.
Teams are limited to four players per team, with no substitutions.
A ball hit OUT OF BOUNDS (ball leaving the playing area) will incur a two stroke penalty.
Team should be ready to putt when their turn comes up or they lose their place in the rotation.
Six stroke maximum per hole. After six strokes the hole is over and the next player will begin.
Teams can play holes in any order and are encouraged to play all 9 holes. Scoring will be based on completing 7 holes of play. If you complete 8 or 9 holes your best 7 scores will be used for your team score.

NEW IN 2023

– Teams will track their own scores on a digital scorecard.

If you have difficulty with the digital scorecard a paper scorecard may be used.

Teams will still be responsible for their own scores.
Each team receives 1 paper scorecard as backup for the digital scorecard.
If your team uses a paper scorecard they must be turned into GameChangers by 5:00pm to be eligible for prizes

Putting ends at 4:30 pm
In case of a tie, a putt off will be held at GameChangers, all team members must be present.
Parking
Parking will be limited at GameChangers. We recommend using a transportation company like Uber or have a family/friend drop off and pick up your team.
FAQs
Do I need to bring my own putter? Yes, putters are NOT provided.

Can I change team members? Yes, through February 17. NO CHANGES AFTER FEBRUARY 17. Email team member change requests here.

Can I change shirt sizes? Maybe. You can request a different sized shirt at Check-In. If we have the size available we will exchange the shirts.

How do I get grouped with another team? Teams are grouped by bus assignment. Bus assignments are made at check-in. We recommend checking in on Friday if you want to start the day with another team. See 'Buses' below for more information.

Do I need to stay on the same bus throughout the event? No, you only need to ride the bus you're assigned to at the start of the event when you travel to your first bar. After the initial drop off at the bars the buses shuttle in a circuit from bar to bar throughout the day. See 'Buses' below for more information.

Does my entire team need to be present at check-in? No, as few as 1 team member can check your team in, pick up all 4 swag bags, and choose the team's bus assignment.
Event Schedule
Friday, February 24
(GameChangers – New location)
5:00-7:00 pm
Early Check-In (bus assignment, bag, shirt, scorecard)
Saturday, February 25
(GameChangers – New location)
9:30-10:30 am
Check-In (bus assignment, bag, shirt, scorecard)
10:30 am
Bus loading and transportation begins
11:00 am-4:30 pm
Putt putt golf at local bars
5:00 pm
Return to GameChangers for Post Putting Party
5:00 pm  LAST BUS PICK UP AT BARS!
6:30 pm 
Raffle Drawings
Awards
Buses
Bus Assignments
Bus assignments are done at check-in (Friday 5-7 pm & Saturday 9:30-10:30 am at GameChangers).
Bus assignments are on a first come first serve basis.
We recommend checking in on Friday night if you'd like to have multiple teams assigned to the same bus.
Your entire team doesn't need to be present at check in, 1 person can represent the team.

Bus Route
Buses will stay on the course route moving from one hole to the next consecutive hole. Players should continue on the course in order from the hole where you begin (i.e. if you begin on hole 4, your next hole is 5, etc.). Buses will follow a route and remain at each hole until the hour, 20 minutes after the hour & 40 minutes after the hour (ex: Noon, 12:20, 12:40, 1:00, 1:20, etc.).
You DO NOT need to stay with any one particular bus. New buses will arrive at each hole as noted above.
At 4:30 pm, all buses will take you DIRECTLY BACK to GameChangers. They will then return back to each hole at 5:00 pm for FINAL TRIPS back to GameChangers.
Bar Order:
Hole 1 – GameChangers
Hole 2 – The Office Bar & Grill
Hole 3 – Wings, etc.
Hole 4 – Minooka Pub
Hole 5 – Fat Boyz Pizza & Stuff
Hole 6 – Lallo's Bar & Grill
Hole 7 – Will County Brewing 
Hole 8 – The Bluffs
Hole 9 – Channahon Lanes 
Participating Bars
The Bluffs Clubhouse
Channahon Lanes
Fat Boyz Pizza
GameChangers – NEW!
Lallo's Bar & Grill
Minooka Pub & Grill
The Office Bar and Grill
Will County Brewing Co. – NEW!
Wings, Etc
Raffles
The YETI/Booze raffle, Chinese raffle and 50/50 raffle are back in 2023!
Purchase your YETI/Booze tickets online here. Tickets for all raffles will be sold at event.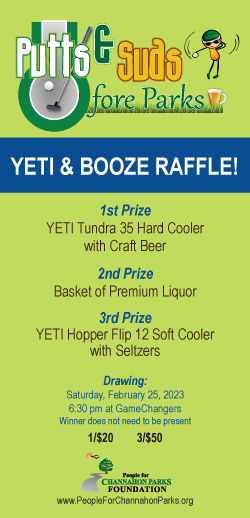 Awards
Team with the best score (includes free registration for 2024!)
Team with best costume (includes free registration for 2024!)
If you're not first you're last toilet bowl award
Best Bar Putting Hole
Volunteering
Would you like to be involved in the event and attend the after party for free?
The People for Channahon Parks Foundation is seeking volunteers to help at Putts & Suds Fore Parks. The event raises around $40,000 each year with all proceeds benefitting Arroyo Trails, A Discovery Woodlands.
What
Bar Official Volunteers to manage a hole at each bar. Volunteers will be at the same bar throughout the event. See Bar Official Responsibilities below.
When
February, 25, 2023, 10:15 am-5:00 pm
After the putting ends join the After Putting Party at GameChangers
All volunteers receive an event shirt and free entry to the after putting party at GameChangers where a buffet dinner will be served.
Putts & Suds Fore Parks Bar Officials Responsibilities
Please arrive at your bar location by 10:15 AM
Please wear your bar official shirt to help players identify you.
Find your location, setup and be ready for your first group that should arrive by 10:45 AM – 11:00 AM.
Position yourself next to the putting hole at a table.
Absolutely no materials promoting a business or organization should be distributed during the event. If you're interested in promoting a business contact Jennifer at jmensik@channahonpark.org for event sponsorship information.
Putting Process
Teams arrive at bar and sign-In with you at the putting hole
Tell Captain where they are in line (should take 5 mins/team)
Call out teams on deck and teams in the hole.
Teams will enter their own scores.
Six stroke maximum per hole.
Keep teams moving. No time delays should be given when a team is up to play.
Start your last team at 4:30 PM
If no starting line at hole is obvious, determine where it is and be consistent
Please note: new this year – scorecards will be digital. If a team has issues recording their scores on the digital scorecard they can use their paper scorecard. Either way teams will track their own scores.
Sponsors
Hole in One Sponsor
Venture One Real Estate
Eagle Sponsors
Air for You Heating and Air, Inc.
Comfort First Heating & Cooling, Inc.
D'Arcy Motors
Edward Jones – Michelle Denoyer
Hollywood Casino, Joliet
JJC McDonald's
Wendy McSteen – REMAX Professionals Select
Birdie Sponsors
Ascension Saint Joseph
D. Construction, Inc
D'Orazio Ford
ExxonMobil
Northern Illinois Steel Supply Co.
Troutman Excavating
Par Sponsors
Associated Orthodontics
Chuck & Donna Szoke
Diversified CPC International
Dollinger Family Farm
Minooka Grain, Lumber & Supply Co.
Morris Hospital & Healthcare Centers
Moxie Bravo Salon
Ron & Mary Ann Lehman
Click Here
for Sponsorship Opportunities
PEOPLE FOR CHANNAHON PARKS FOUNDATION
24856 W. Eames St, Channahon, IL 60410
Phone: (815) 467-7275 |  Fax: (815) 467-5677  |  info@peopleforchannahonparks.org
People for Channahon Parks Foundation is a 501(c)3 non-profit organization. DLN: 17053149037019 FEIN: 26-4058097
©2023 People for Channahon Parks Foundation